MediMath | Regular Rate & Rhythm
The Medical Calculator with Style for iPhone and iPod Touch
MediMath Medical Calculator for iPhone and iPod Touch puts 133 of the most important medical calculators and scoring tools in the palm of your hand. Its streamlined interface and comprehensive results help you spend less time crunching numbers and more time caring for patients.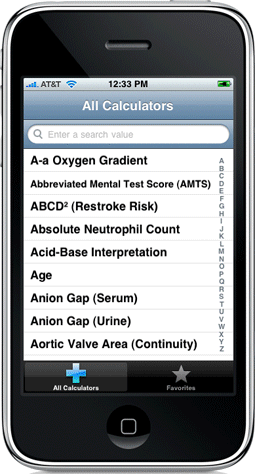 Determine a patient's GFR, predict cardiac mortality with the Framingham cardiac risk score, or calculate the reticulocyte index in just a few taps. Numbers, factors, and units (US or SI) are entered quickly, without digging through multiple screens.
Interpretations and additional data for many calculators are offered alongside the value, so you can see how much of the burn fluid requirements you should give in the first 8 hours. Tap the Info button to see the formula, an explanation, literature references, and more.
MediMath is for every medical professional: physician, nurse, or trainee. Nobody uses every calculator - as a medical student impressing your attending, you still probably didn't need a Daugirdas Kt/V measurement, and as an adult cardiologist you'll probably never use an APGAR score. That's why MediMath offers a Favorites section, in which you can save and order the calculators you use most often.
Download MediMath from the iPhone App Store today!