iPhone business card scanners Review | Mobile | iOS Central | Macworld
iPhone business card scanners
For scanning business cards onto your iPhone, WorldCard Mobile stands out
I'm happy with the iPhone's touchscreen keyboard, but I don't love typing in new proper names or email addresses—the stuff that the iPhone OS can't auto-correct properly. Since the business world today still clings to the relic of eras past known as the business card, and since tapping in those details can be a bit painful, several apps exist to scan cards in with the iPhone's camera. I tested four.
With all of these apps, the quality of the photo you take directly impacts how well the software can recognize the text on the business card. In each app, you'll want to get as close to the card as you can without it getting blurry, hold the iPhone completely still, and make sure there's plenty of light without casting shadows on the card itself.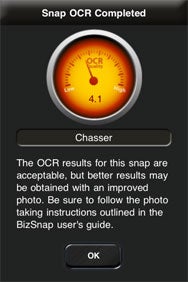 Feedback: In addition to scanning your business cards, BizSnap also scores the quality of your photo.
The first app I tested was BizSnap from iApps. It's free. Sort of. I'll explain that part in a moment.
When you're ready to snap a photo of the business card, BizSnap puts a guide box on the iPhone screen for you to position the card. The custom Take Photo button is color-coded; when the camera is still and in-focus, it turns from red to green. To recognize the text on the card, the image is actually sent to BizSnap's servers, which perform the optical character recognition (OCR) and send the data back to your device. (It's the only app I tested that doesn't do this processing on the iPhone itself.) The process usually takes no longer than a minute, but obviously requires that your iPhone be online. You can shoot card photos and save the recognition process for later.
When your scanned text comes back, BizSnap also scores the quality of your photo. I found that it complained a lot about photos that other apps scanned with ease. Overall, the OCR is acceptable, but noticeably more error prone than some of the apps I tried.
Like all the apps I tested, BizSnap doesn't just need to recognize the text—it also needs to figure out which words go into which fields. I encountered errors like a city of "New" and a state of "Jersey." When BizSnap guesses wrong and puts words in the wrong places, it makes the process of correcting fields straightforward: You can copy any of the recognized text and paste it into any contact fields. Once you're happy with the information, you can create a new contact on your iPhone with a single tap, but there's no facility to merge the new information with an existing contact.
As I was testing, I encountered the concept of "snap tokens," because I'd run out. While the app itself is free, you'll need to purchase tokens to get your photos processed. You can pay $1 for 10 snaps, $2 for 25, or $6 for unlimited processing.
BizSnap also offers receipt scanning, which you won't find in any of the other apps in this round-up. I found receipt photo processing was especially shoddy, repeatedly reporting purchase prices of $0.00, though that was, unsurprisingly, never really the case.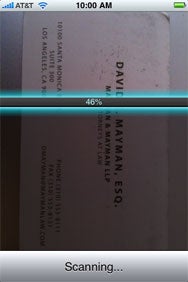 Give It a Scan: When Business Card Reader scans a business card, it uses a clever scanner-like animation while the job is going on.
The next app I tried was Business Card Reader, available for $5 from Shape Services. In a clear advantage over its competitors, Business Card Reader lets you tap anywhere on the screen when you're photographing cards, which makes taking good pictures easier. When you tap to snap the photo, the app waits until you're holding still before it actually takes the picture, which is an especially nice touch. Like BizSnap, it shows on-screen markers to help you position the card properly before its close-up.
Once you've snapped your photo, Business Card Reader does its OCR scanning right on your iPhone, with a clever scanner-esque animation as you wait. Scanning takes seconds, and worked with impressive accuracy. Once you're happy with the information, Business Card Reader offers options to create a new contact, or to merge the new data with an existing contact. The first option worked great, but the merging option crashed brutally every time I tried it: The app would quit, the card image would be lost, and a new (duplicate) entry would be created in my address book—the exact thing I was trying to avoid.
When you create a new contact, BC Reader saves the scanned business card image as the contact photo, which is both smart and odd: Seeing an image of your caller's card when the phone rings is a bit jarring.
Compared to BizSnap, Business Card Reader excels in every area: A slicker interface, with scanning that's both speedier and more accurate.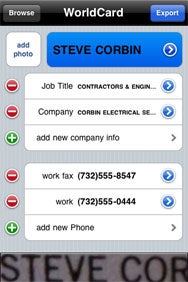 Your Name Here: If WorldCard Mobile can't figure out which text needs to go in what field, tap back to the card and draw a box around the relevant info.
WorldCard Mobile, on sale for $5 at this writing, uses the iPhone's regular shutter-button interface when you photograph your business cards. Unlike the first two apps I tried, it doesn't offer an on-screen guide, or give an indication when everything's in focus and ready for you to take the picture. As it turns out, that didn't matter. It's easy to tell when the business card is in focus.
Scanning in WorldCard Mobile is blazingly fast. When you review and edit the contact information it scans, the app shows you a cropped image from the card to reflect where that information come from. This makes verification and correction simple—though there was very rarely anything to correct.
If the app can't determine which text on the business card should go in a specific contact field, you can tap back to the card and draw a box around the relevant info; WorldCard Mobile identifies that text and immediately stores it where you've indicated. In effect, you're copying and pasting from the card image to the contact information. It's magical.
Again, you can create a new contact on your iPhone with a single tap. Merging data with an existing contact works great, too.
Offered by Penpower Technology, WorldCard Mobile works faster and more reliably than any of the other apps I tried, and will impress non-iPhone-wielding colleagues as you scan their cards in seconds.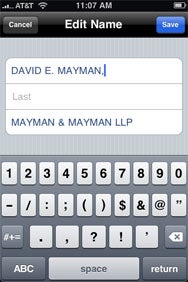 Field Flaws: ABBYY Business Card Reader shoved the full name of contacts into the first name field in our testing.
The last app I tested was ABBYY Business Card Reader, currently on sale for $2. ABBYY's app shows on-screen guides for taking your photo, like BizSnap and Business Card Reader, and it scans very fast, like WorldCard Mobile. Unfortunately, the app suffers from some obvious flaws that make me wonder whether anyone at ABBYY tested the app at all.
First, the good news: Overall, ABBYY's OCR works quite well, across 16 different languages, with minimal typo correction needed. One weakness that I saw again and again, however, was poor performance at recognizing spaces, leaving me with too-frequent addresses like "1600PennsylvaniaAvenue."
Far worse, though, is ABBYY's complete failure to respect the iPhone's address book fields. Your contacts' full names are shoved into the "first name" field, and their complete addresses (including city, state, and zip) are crammed into the single-line "street address" field. This makes no sense, and renders sorting your address book alphabetically by last name impossible. On top of these failings, ABBYY (like BizSnap) provides no way to merge scanned information with an existing contact.
If ABBYY addresses these screamingly apparent bugs, the app can rival WorldCard Mobile for true dominance in this genre. As is, though, it fails to execute on its core functionality, and is thus a definite pass.
Note that both ABBYY Business Card Reader and BizSnap require the iPhone 3GS and its more advanced camera. Both Business Card Reader and WorldCard Mobile also require an iPhone 3GS, but those apps will work on older iPhones equipped with a macro lens attachment.
If you mean business when it comes to business cards, then the choice is easy: WorldCard Mobile performs far more capably than the rest of the bunch.
[Lex Friedman is a frequent contributor to Macworld.]