Samsung Galaxy Mega 6.3 battery life test is done, results are inside - GSMArena Blog
The
Samsung Galaxy Mega 6.3
is a big device, no question about it, it even makes the Galaxy S4 look compact. We already have a feel for the Mega 6.3 from its preview and we're working on a full review. But before that's done, we have to ask – does the battery live up to the "mega" monicker?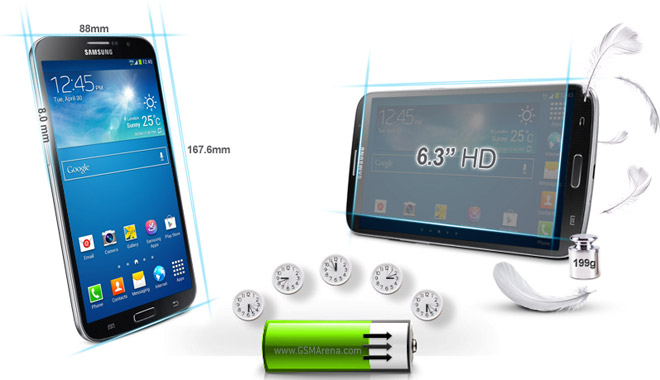 We've seen great battery efficiency from dual-core Snapdragon chipsets and the 3,200mAh battery has plenty of juice. So, it all comes down to the screen – and what a screen it is, it measures 6.3″ in diagonal and its surface area is only 23% smaller than a 7″ tablet (assuming a 16:10 screen for the tablet, like the Nexus 7).
Perhaps unsurprisingly, the Samsung Galaxy Mega 6.3 is close to the top of the talk time chart. Actually, we're surprised it's not closer to the top, but even so 20 hours of talk time on a single charge is more than anyone would need.
Talk time
Motorola RAZR MAXX (ICS)

21:18

LG Optimus G Pro

20:45

Motorola DROID RAZR MAXX

20:24

Motorola RAZR i

20:07

BlackBerry Q10

20:00

Samsung Galaxy Mega 6.3

19:54

Sony Xperia SP

19:49

Samsung Galaxy S4 (S600)

18:03

Samsung Galaxy Note II N7100

16:57

Sony Xperia Z

16:03

LG Optimus G

15:30

Pantech Burst

4:46
The web browsing result was pretty good, considering that screen is a big power draw. The Galaxy Mega 6.3 has only 600mAh capacity more than the Galaxy S4, but that's enough to squeeze out almost one hour more (a 5″ 1080p AMOLED screen is pretty power-hungry too). Also, the Apple iPad mini lasted about 50 minutes longer.
Web browsing
HTC One

9:58

Apple iPad mini

9:05

Samsung Galaxy Note II N7100

8:48

BlackBerry Q10

8:42

Nokia Lumia 810

8:20

Asus Padfone 2

8:20

Samsung Galaxy Mega 6.3

8:17

Nokia Lumia 610

8:01

HTC One X+

7:56

Sony Xperia E dual

7:42

Samsung Galaxy S III mini

7:38

Nokia Lumia 720

7:37

Samsung Galaxy Nexus

3:01
The video playback time is almost the same as the web browsing time, which goes to show that the screen is the primary power draw on the Galaxy Mega 6.3 (the chipset is under light load for video playback, but web browsing pushes the two Krait cores harder). Anyway, you can watch a couple of full length movies and still have plenty of juice for the rest of the day.
Video playback
Motorola RAZR MAXX (ICS)

16:35

Apple iPhone 4S

9:24

HTC Evo 4G LTE

9:07

BlackBerry Z10

8:44

LG Optimus G Pro

8:40

Nokia N9

8:40

Samsung Galaxy Mega 6.3

8:34

HTC Butterfly

8:28

Samsung Galaxy Note

8:25

Samsung Galaxy Grand Duos

8:11

HTC One X+

8:11

Motorola RAZR i

8:11

Nokia Lumia 710

3:27
In the end, the Samsung Galaxy Mega 6.3 scored an endurance rating of 60h. That means you can go three days on a single charge (and plug in the phablet to charge at the end of the third) if you do an hour each of calling, web browsing and watching videos. You can learn more about how we do the battery test
here
.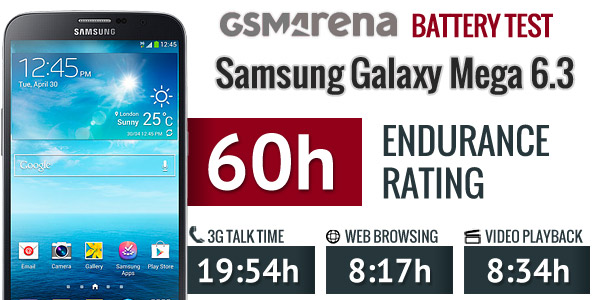 We're almost ready with the full review of the Mega 6.3 and we have to say the benchmark results are looking pretty good compared to last year's flagships (quad-core Cortex-A9, relatively old GPU), so going with a dual-core Snapdragon is fine for a mid-range device with a 720p screen.